QUESTION FROM A READER:
I flirted some with a female security guard at a bank and she out of the blue came up to me and asked me if I was buying lunch. I have read that you shouldn't buy lunch until you get closer to being intimate with someone. I said well, "I could" but was then interrupted and had to leave.
From that point on she changed her attitude and became very "professional" in her actions, and now she just nods her head when I speak or wave to her when I see her. I don't know whether to continue to flirt with her or just keep my distance keep it on the "professional" relationship with her and let it go at that.
What did I do wrong to offend her? Was it I refused to buy lunch? I did ask her out after that and she just said she was busy that weekend.
D.H., Indiana
______________________
CARLOS XUMA ANSWERS:
Okay, so we should probably talk a little bit about the dating dynamic that happened here...
But first, I need to give you a little tough love.
Yes, from time to time I will advise you to do certain things, but nothing is a black & white rule in dating and attraction. That means that from time to time you can do completely opposite things from my advice and they will both work the same for you.
This is very hard for guys to understand when they're first learning, so I will give you a few "rules" now and then.
So when I tell you that you shouldn't buy lunch, that's most of the time. And it's a good rule to stick to.
Why?
Because MOST guys buy lunch for a woman because they're trying to kiss her ass to get her to like them. They think that if they just give a woman enough stuff, that this will "prove" to her that she should like him.
(WHY guys think that buying her affections should work is beyond my reasoning... and I'm assuming most guys have figured out that this is a losing strategy.)
The reality is that we look down on people who try to buy our favor with gifts. We secretly resent them because we know they're trying to manipulate us for personal gain.
In this situation, your job is to wonder why she wanted you to buy her lunch.
After all, she offered that to you.
One very likely explanation for her behavior is that she was into your flirting and decided it was okay to put herself out there and take the lead.
But a woman will very likely only do this once. That was a risk to her ego to put it out there, and it might not have been a bad thing for you to accept.
What happens is that after a woman does this, she then feels that
"Oh no! I just initiated a flirtatious connection with a man! That might make me a slut...!"
And this happens in just a split second in her emotional brain. She doesn't even know it's happening to her.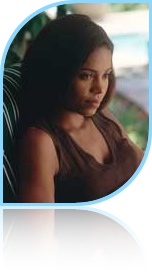 And then she backs off.
So there are really only two kinds of women that ask for you to pay for something.
1) There's this kind of woman who was genuinely interested, but used this request as a demure way of showing interest, and then...

2) There are the "let me see what I can get" women that are basically trying to sucker the chumps out there.
It's your job to be able to tell the difference, and you'll see it in the future now that I've explained them to you.
Keep flirting... you're too worried about winning her over and interpreting her behavior. If you modify your behavior to accommodate her "mood" or the way she acts, she'll sense it, and it will lower her attraction.
This is what is known as "social reactiveness."
If she said she was busy for that date, you should bust her chops. Tease her. Give her a hard time.
"Busy? What could you be doing that would be more fun? Cleaning your gun? Watching Lethal Weapon for the 37th time? C'mon! Live a little!"
Have fun with her and keep it up. What have you got to lose? You're not dating her now are you?
Guess what? The worst case is that you won't be dating her later on either.
Do you see the mindset? There is NO POSSIBLE LOSS.
That is what is most important... That you learned how to think like a confident Alpha Man, not whether or not she likes you or not.
One of them is meaningless in the grand scheme of your life, and the other is VITAL to your lasting self-esteem and happiness.
I'll let you figure out which is which.
And take a look at this: How to Flirt with Women - start to finish...
If you want to really learn how attraction works with women, and lay the foundation for REAL success with women, you need to learn these invaluable rules from my Fast Start program.
Strength & Honor,
Your friend,
PS: Make sure you take a minute and look at all of the different programs I've created to help you learn how to overcome your fears, approach women, get numbers, get dates, and take things to a "physical" level without fear and without rejection.
You can see them all, plus watch great video clips right here: Carlos Xuma's Dating Tips for Guys
---
For an overview of R.E.A.L. Game and more videos from Carlos Xuma, click HERE...
To see the programs that Carlos Xuma recommends for Alpha Men,
click HERE...
---